Angelina Jolie had a heartwarming reunion with her daughter Zahara, who is currently studying at Spelman College in Georgia. The mother-daughter duo met at the New York airport, where Jolie appeared happy and carefree.
Seizing the moment, Jolie opted for a fresh new look, lightening her hair to a softer shade. She gracefully donned an airy white dress with a plunging neckline, complemented by a cropped black blazer adorned with gold buttons.
Matching the dress, she chose platform sandals and carried a voluminous cream-colored bag.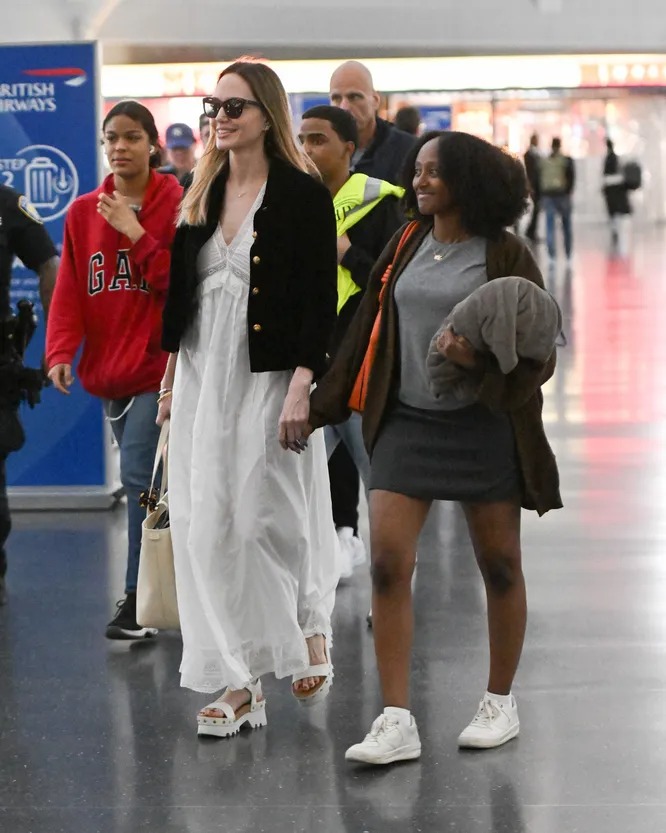 Following her mother's footsteps, Zahara also showcased her feminine fashion sense. For the outing, she paired a gray t-shirt with a miniskirt and a brown cardigan.
With joyful smiles, the former UN Goodwill Ambassador and her daughter warmly greeted each other, hand in hand, as they made their way through the airport terminal.
Later in the evening, Brad Pitt's ex-wife and their adopted daughter were spotted strolling through the streets of New York.
Jolie had a wardrobe change, opting for a cream jumper and a black pencil skirt, paired with beige pumps. Zahara sported a canary-colored top, black trousers, and comfortable shoes.
Jolie's fans have been buzzing with excitement over her new appearance. Discussions on social media range from opinions on her hair color, with comments like "Dark hair suits her better," to praise for her laid-back style and her ability to build close relationships with her children.
The unexpected shift to blonde hair has certainly caught attention.
Recently, Jolie also opened up about her decision to undergo breast surgery, influenced by her mother's battle with breast and ovarian cancer. The actress took steps to protect her own health.