The famous singer and actress, Jennifer Lopez, was seen on the streets of West Hollywood. She made quite a daring fashion statement while going to the hardware store.
Jennifer, who is 53 years old, and her husband Ben Affleck recently purchased a lavish mansion in Beverly Hills. Jennifer has been busy decorating their new family home. Just recently, she was seen in stores that sell fireplaces, and today she went to a furniture store.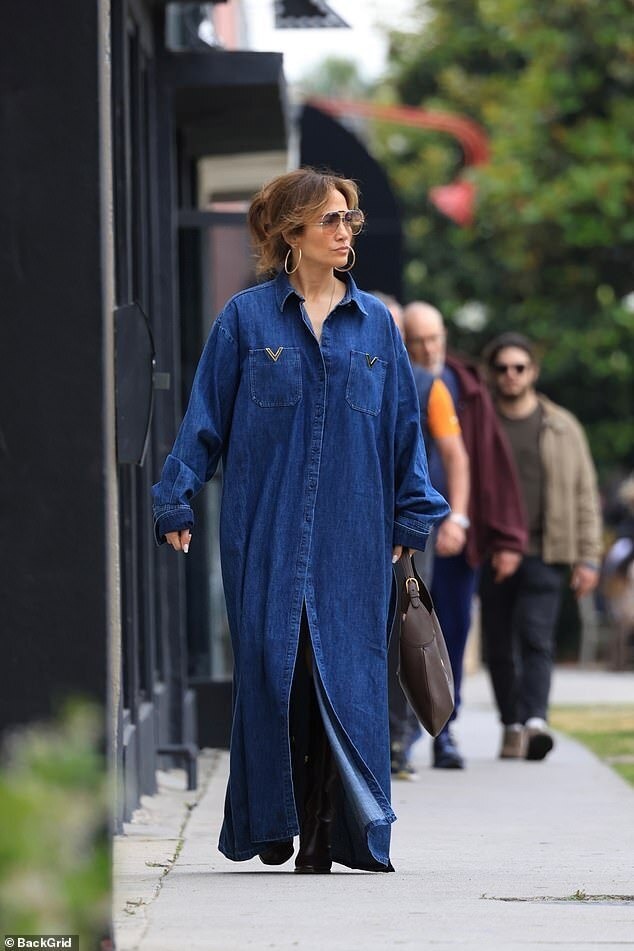 Even when she's not walking the red carpet, Jennifer always strives to look flawless. She put a lot of effort into her shopping outfit.
The Grammy-winning artist tied her hair up in a high updo, leaving a few curls framing her face. Jennifer wore a denim shirt dress from Valentino, which had bold cuts that highlighted her famous hips. She paired the dress with black leather boots.
To complete her look, Jennifer wore gold hula hoop earrings and carried a brown Gucci bag on her shoulder. She also wore sunglasses to protect her eyes from the sun.
As Jennifer walked down the street with a cup of coffee in hand, her dress exposed not only her hips but also her buttocks, which caused some awkward moments for her and her partner Ben.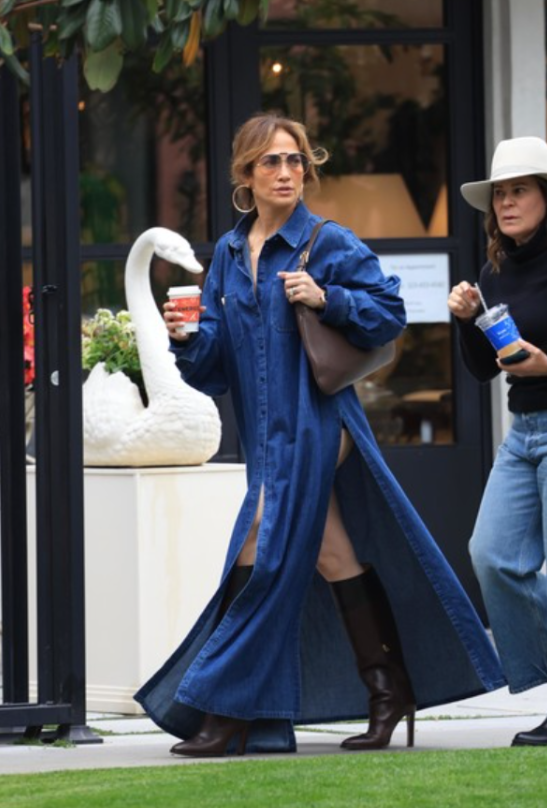 Fans of the actress have been eagerly discussing her new fashion choice. Some admire Jennifer's beautiful hips but find the dress unflattering. Others praise her amazing figure and youthful appearance. However, some fans expressed concern that the revealing dress might make her children feel embarrassed. Despite mixed opinions, Jennifer's fans still appreciate her unique style.
Jennifer and Ben recently purchased their new mansion for $60 million. The house is incredibly spacious, with 12 bedrooms, 24 bathrooms, and 15 fireplaces.
It also includes separate guest houses and guard quarters on the property.
Jennifer puts a lot of effort into maintaining her appearance. She works hard in the gym to stay in shape and has admitted to starting her workouts as early as 4:45 in the morning.